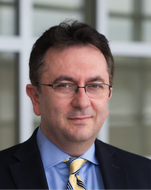 Yildiray Yildirim
William Newman Professor in Real Estate Finance
Chair,
Department of Real Estate
Director,
Steven Newman Real Estate Institute
E-mail: yildiray.yildirim at baruch.cuny.edu
Zicklin School of Business
Baruch College, CUNY
137 E 22nd Street, NY 10010
PhD, Cornell University
Curriculum​ Vitae
His research interests are real estate in particular securitization and commercial leasing, credit risk and rating, fixed income securities, inflation modeling, and structured finance. His co-authored work on commercial mortgage-backed securities (CMBS) was patented in 2014. He was a visiting scholar at Princeton University, Office of Comptroller of the Currency, and Borsa Istanbul. He provided consultancy at the U.S. Department of Housing regarding issues concerning multifamily mortgage default and foreclosure, and received a grant from JP Morgan Chase on commercial mortgage origination and credit tenant risk. He graduated from Yildiz Technical University with a B.Sc. in Computer Science and Engineering. He received both his M.A. in Economics and Ph.D. in Statistics at Cornell University.
---